Hey urbanists,
I really think the 15-minute city being proposed in Paris is the way forward, bringing people and different urban uses together — beautiful! Obviously, that's what I'm highlighting this week, along with a great little graphic put out by the campaign.
But this week there are also great stories on how humans can't pay attention in 'semiautonomous' vehicles, workers at Kickstarter unionizing, cars being bad for your health, more good news from NYC's busway, there being more chain restaurants in auto-oriented cities, Obama's bad record on oil exports, the E.U.'s neoliberal Green Deal, and more!
I'm still hard at work on my Master's thesis — about 1,000 words each day this week. I'm also thrilled at Bernie Sanders' win in Nevada last night.
Have a great week!
— Paris
P.S. — Click the heart below the headline or at the end of the issue if you liked it!
The 15-minute city
In Paris, mayor Anne Hidalgo is seeking reelection, and is running on a platform of creating a '15-minute city' where uses are mixed so residential, entertainment, shops, and services all share the same areas, making it easier for people to quickly reach the things they need. Her advisor Carlos Moreno, a professor at the Sorbonne University, explains, "There are six things that make an urbanite happy. Dwelling in dignity, working in proper conditions, [being able to gain] provisions, well-being, education and leisure. To improve quality of life, you need to reduce the access radius for these functions."
Her political group released the following diagram, with headings reading the following clockwise from the top: Learn, Work, Share and Re-Use, Get Supplies, Take the Air, Self-Develop and Connect, Look After Yourself, Get Around, Spend, and Eat Well.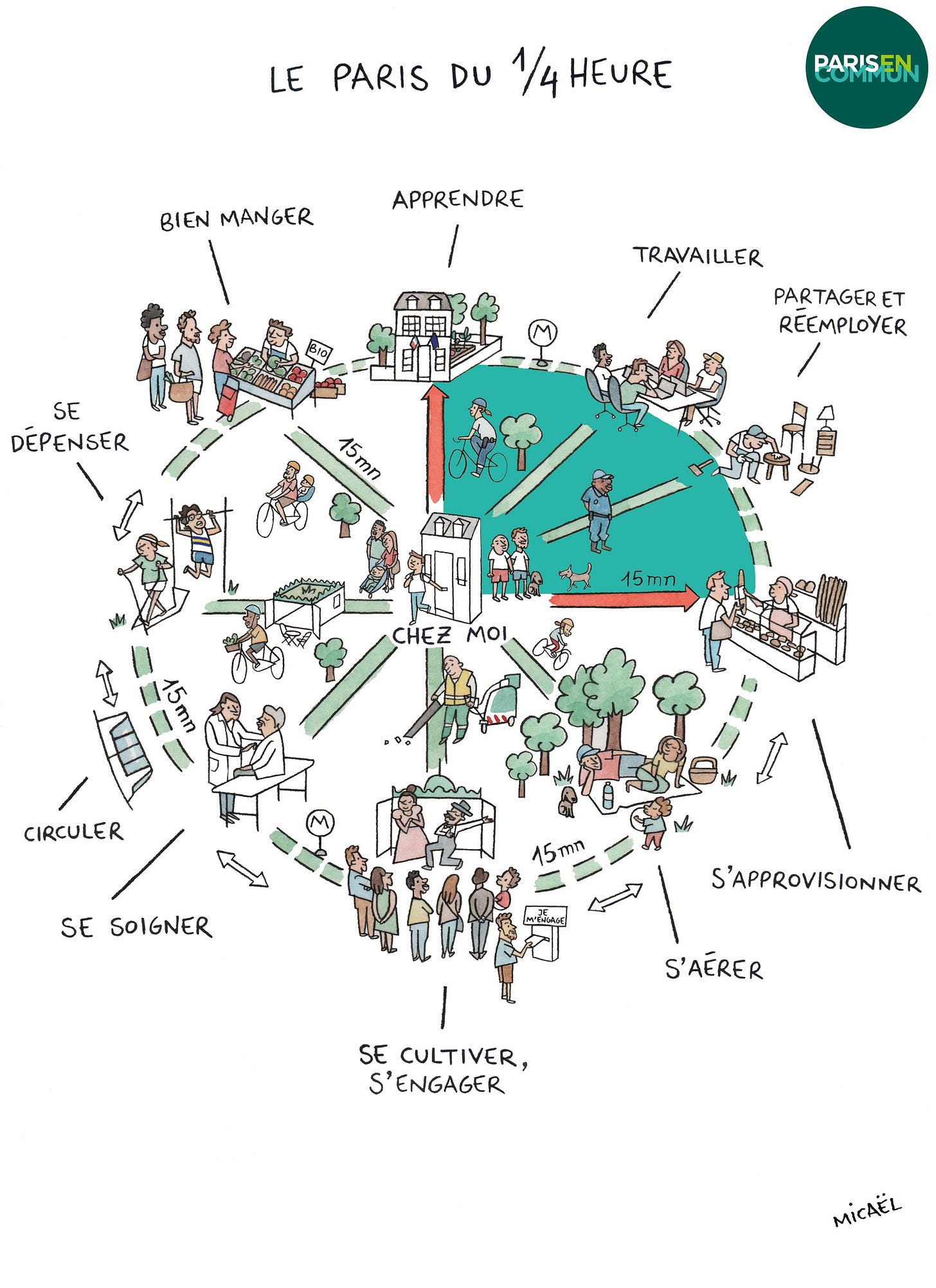 Feargus O'Sullivan at CityLab provides more detail on what that will mean in practice:
More Paris road space would be given up to pedestrians and bikes, with car lanes further trimmed down or removed. Planning would try to give public and semi-public spaces multiple uses—so that, for example, daytime schoolyards could become nighttime sports facilities or simply places to cool off on hot summer nights. Smaller retail outlets would be encouraged—bookstores as well as grocery stores—as would workshops making wares using a "Made in Paris" tag as a marketing tool. Everyone would have access to a nearby doctor (and ideally a medical center), while sports therapy facilities would be available in each of the city's 20 arrondissements.
O'Sullivan says Portland has a similar ambition with '20-minute neighborhoods'. Melbourne also made that commitment in its recent master plan, and Vancouver wants 90% of residents to live in 'complete communities' by 2030, up from 45% today.
Gorz's rather convincing argument that luxury goods are defined by the fact that they lose all usefulness and value if everyone has them really throws some cold water on the "luxury communism" idea.
News roundup
🚗🥱 "Developers tend to assume that people can 'partially' pay attention while using a 'semiautonomous' car. […] But people don't behave that way in the car. They either they pay attention, or they don't. […] even in controlled test environments, human reaction time for taking over an autonomous system is often to slow too avoid potential safety issues. People get lulled into thinking that their vehicle is safely under autonomous control, and then often fail to take back control quickly enough."
Tech dystopia
✊ "Kickstarter workers are now the first white collar workers at a major tech company to successfully unionize in the United States, sending a message to other tech workers."
📧😡 After Congress demanded that major tech companies hand over internal documents, Rob Larson reviewed some of the scandalous revelations that have come from previous disclosures of emails from Microsoft, Google, and Apple
🇮🇸🇳🇴🇸🇪🇩🇰🇫🇮 "Today, unlike in other European regions where local [subscription video-on-demand] services have either shut down or struggled, the Nordics are home to several powerful local streaming services that are coexisting alongside Netflix and HBO Nordic."
🚗😬 A group of researchers found several issues with the cameras and autonomous system on a Tesla Model S, including placing "a 2-inch piece of black electrical tape across the middle of the 3 in a 35 MPH speed limit sign could cause the system to read the sign as an 85 MPH sign"
🇪🇺📱 Macrumors has a good overview of the European Union's ongoing attempts to implement a common charger and why Apple opposes it (with arguments I don't buy)
📱💬 Your private Whatsapp group might be public now, all thanks to Google
🇨🇿 Prague passed new legislation against Airbnb "allowing local authorities to restrict short leases, improve tax collection and force the platforms to share more details about its users." Legislators are worried about "touristification" pushing out residents.
🇬🇧 Some parts of the United Kingdom "now have one listing [on Airbnb] for every four properties, prompting concern that the rapid expansion in short-term lets is 'out of control' and depriving communities of much-needed homes.
Billionaires perform no socially useful function and are an obstacle to human progress.
Critical urbanism
🇨🇳🚗 In Beijing, car permits are distributed in a lottery, so a group of researchers followed 180 winners and 757 losers for five years. They found the winners took 2.9 fewer transit trips a week, a 45% drop; spent 24.2 fewer minutes each day walking or biking, a 54% drop; and gained an average of more than two kilograms. Those findings back a New Zealand study which found car use is bad for your health.
🇺🇸🙂 In the first four months of NYC's 14th street busway, "total crashes are down 53% and injuries are down 63% compared to the same four-month period a year earlier. Crashes that resulted in injuries are down 68%."
🧱 "While an essential civic and ethical duty to fight against the climate crisis is belatedly being adopted in new architecture, raw earth offers architects the potential for action, especially for buildings of small or medium size, which are the most prevalent. Raw earth does not require a phase of industrial processing and needs little or no transportation, as it is used on or near its place of extraction. Its use does not require fossil fuels and does not produce CO2. If used, as often advised, without cement or any other industrial additive, earth is a fully recyclable material."
🇺🇸🏘 Sasha Perigo draws an important distinction between anti-density and anti-gentrification activists in California and their role in housing politics. It's not fair or accurate to lump them into the same group.
🧱🚲 "As compared to Lego sets from years ago, the cars seem to have grown larger — evolving from four- to six-studs wide — and the roads appeared to be getting wider, while the sidewalks were getting more and more narrow. […] As a toy that can directly affect a child's understanding of the built environment, Lego is in the unique position of being able to forcefully advocate for streets that are safer and more environmentally friendly than the ones we have in the real world.
🚗🍟 "Metros where people drive more have a higher fraction of chain restaurants." I was talking to someone about this just a few days; not surprised at all.
🇳🇱🛑 Amsterdam might ban foreigners from buying cannabis in its 170 "coffee shops" and move the red-light district to a facility in the suburbs
🇺🇸🛣 After kicking cars off Market Street, San Francisco may be getting more serious about congestion pricing
🇨🇳🚄 After the story about China's railway company offering to help the U.K. with its HS2 high-speed rail project, Alon Levy argues China's high-speed rail construction isn't as fast, cheap, or efficient as many people assume
🇨🇦🛴 Montreal is banning Lime and Bird from operating e-scooters in 2020, citing scooters only being parked in designated areas 20% of the time. People who own their own e-scooters will still be able to use them.
🚫🚗 Broadway in Los Angeles could be the city's first car-free street
Climate crisis
🇺🇸🛢 Kate Aronoff explains how Barack Obama isn't a climate savior. He ended a more than 40-year-old ban on crude oil exports, and "signed that bill into law days after world leaders hashed out a more high-profile aspect of his environmental legacy: the Paris Climate Agreement." Before December 2014, less than 5% of crude oil was exported, mainly to Canada through a loophole, but now it's almost a quarter and "total fuel exports have grown more than 750%. The U.S. is now the world's largest producer of both natural gas and crude oil."
🇨🇳👩‍💻 "[G]overnment-directed quarantines and other restrictions due to the current coronavirus outbreak have temporarily reduced China's greenhouse gas emissions by a quarter. […] There is a policy that could mirror some of the emissions reductions from undesirable events such as outbreaks, while improving quality of life: a four-day, 32-hour workweek."
⛈ The 2020 World Migration Report confirms climate change now displaces more people than war: "Many more people are newly displaced by disasters in any given year, compared with those newly displaced by conflict and violence, and more countries are affected by disaster displacement."
🇪🇺👎 The European Union's decision to drop the "New" from its Green Deal "is a signal that the commission does not seek system change through ambitious green macroeconomics and tough regulation of carbon financiers. Rather, it takes a politics as usual, third-way approach that seeks to nudge the market towards decarbonisation."
🇯🇵🏭 "If all 22 plants were to come to fruition, Japan will install enough new coal power capacity to emit an additional 74.7 million metric tons of carbon dioxide each year, more than the total emissions of countries like Norway and Sweden."
🛢🏭 Oil and gas companies have "had a far worse impact on the climate than previously believed," with the human emissions of methane from fossil fuels underestimated by up to 40%
🗺 Mario Reinaldo Machado spoke to a polar scientist and the lead singer of a heavy metal band, both of whom "seek to map the realities of climate change and in so doing, communicate the magnitude and urgency of the global climate crisis," but from very different perspectives
🇮🇳🏭 India will stop importing coal for power plants by fiscal year 2024
---
If you want to share Radical Urbanist with a friend, you can forward this issue or send them here to sign up. Send comments to @parismarx or paris@parismarx.com